---
---
At the time of the Russian revolution Finland was under the rule of the Tsar. When Nicholas II was deposed Finland declared its independence and defeated the Russian forces in Finland, but retained stores of arms. With an urgent need to build an army to defend itself from the real threat of Russia and many Mosins already on hand it only made sense to adopt it as the primary rifle. Between WWI and WWII Finland actively traded other types of rifles in their inventory with countries across Europe and Asia for Mosins which they had captured. The condition ranged from serviceable to "parts guns". With an abundance of spare parts it was only natural to use them to build "new" rifles that could be put to use. From 1922 to 1924 Suomen Ampumataruikehdas made a small number of M91s marked SAT Riihimaki on the barrel shank. In 1925 Finland began production of barrels at Tikkakoski (Tikka) which were assembled into M91 configuration with dates of 1925, 1926, and 1927. The later 1926 and all 1927 barrels were a heavier type with a step near the muzzle to allow the use of the standard bayonet.
During the Continuation War Finland also built many M91s with barrels made by Tikka and VKT. Barrel blanks were also purchased from Belgium but were not assembled until post war and are known as "B barrels".
The rifle pictured at the top of the page is in typical early configuration with the stepped barrel, early barrel bands and Russian stock with sling slots. The rifle pictured below is in typical late configuration with a straight barrel, late barrel bands and Finnish two piece stock with sling swivels in escutcheons with round holes. However, Finnish M91s can be found with a mix of features on rifles of any age as there were no set standards, especially during later refurbishment.

Specifications
For all models see the Mosin Nagant Rifle Specifications page.
Weight
Over All
Length
Barrel
Length
Stock
Length
Groove
Diameter
Sight
Radius
Cleaning Rod Length (approx.)
9 1/2 lbs.
4.3kg.
51 1/2"
130.8 cm.
31 1/2"
80.0 cm.
47 1/2"
120.7 cm.
.3095"
27"
68.6 cm.
29"
73.7 cm.
Years of Production by Arsenal
For all models see the Mosin Nagant Rifle Years of Production page.
SAT
Tikka
VKT
B
1922 to 1924
1925 to 1927
1940 to 1943
1940 to 1942
1942 barrel date
Assembled post war
Barrel Markings
The dates are when the marking was used.

SAT
1922-1924
(courtesy of Steve K.)

Tikkakoski
1926
Dated on bottom of barrel

Tikkakoski
1926-1927

Tikkakoski
1940-1943

VKT (Valtion Kirvaaritehdas)
1940

VKT (Valtion Kirvaaritehdas)
1941-1942

B
1942

B/VKT
1942

B/VKT/Liege
1942
Receiver Tang Markings
Finnish tang markings can be any Russian or Soviet marks, but are usually 1919 or earlier.
Stock Variations
Reused Russian Stock
Russian Stock with new fore end spliced on
Finnish one piece stock (uncommon)
Finnish two piece stock
Finnish post war two piece stock
Reused Russian Hex Receiver
Very rare Finnish M91s built on round receivers are known.
1927 Tikka Stepped Barrel

Sight Variations
Finnish M91s have the same type sights as the Russian Konovalov design of 1908. The primary difference is the Finns remarked the rear sight bases in meters utilizing the existing notches. Occasionally an extra notch is cut at the rear of the base and is marked 2 (200 meters). Typically the numbers are placed on the right side of the base which was left blank by the Russians, but there are lots of variations in the manner of the numbering and how the existing Russian numbers were treated.
Finnish M91 front sight bases are integral to the barrel and identical to the Russian version. However, the variation in blades is tremendous. Many of them are pictured below with brief descriptions.

Russian barleycorn

Curved base, flat top
Curved base, flat top, notched rear
Curved base, curved top
Curved base, curved top, notched rear
No base, flat top
No base, flat top, notched rear
No base, curved top, notched rear
No base, untapered blade
Uncommon
Semi-curved base with wider dovetail, flat top
Uncommon
Cleaning rod nut, tapered hole in front only,
hole in top threaded to receive nose cap screw to aid in removing nut
| | |
| --- | --- |
| Nose cap | |
| | | |
| --- | --- | --- |
| Sling Slots | Front | Rear |
| Russian with screwed in place escutcheons | | |
| Russian w/ Finnish hangers | | |
| Escutcheon plate with round hole and hangers | | |
| | |
| --- | --- |
| Early Russian M91 barrel band | Late Russian M91 barrel band |
| | |
| Barrel band retaining pin (early, rare) | Barrel band retaining screw (late) |
| | |
Handguard
Handguard end rivets
Copper
Small aluminum
Large aluminum
Bayonet socket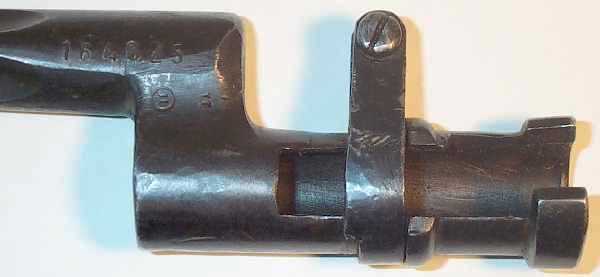 ---
---